Happy Tour to Chimelong Paradise and Sunflower Garden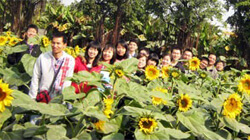 Since New Year's Day and Spring Festival are around the corner, we are all busy with making annual summary and plans for the next year and making preparation for Spring Festival vacation, while customers overseas are enjoying Christmas Holiday recently. "Why not going out for a relax tour one colleague proposed. To awaken a dreamer, both of us agreed to go out for vacation. Taking a SPA is a good choice in winter. It is not so cold in this winter in Guangdong Province. So this idea occurred to me. However, this plan was canceled firstly since we used to do the same in the past several tours. After discussion, we decided to enjoy our time in CHIMELONG PARADISE and SUNFLOWER GARDEN finally.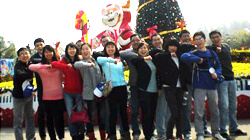 Chimelong Paradise is the world top-level super large theme park created by Chimelong Project with the investment of RMB 2 billion, integrating the ride amusement, stunt performance, patrolling performance, ecological entertainment, specialty cuisine, theme shop and comprehensive service. It is equipped with more than 70 resort facilities, mostly imported from Europe with design and technology of world leading level, including eight tops in Asia and world, that is, vertical roller coaster, tenth ring roller coaster, motorcycle roller coaster, flying horse roller coaster for family, U skate board, superior water fight, stunt performance, superior large pendulum and the world advanced 4D cinema. Can you keep yourself away from such high-end theme park? Of course not, So we were on the way to Chimelong Paradise!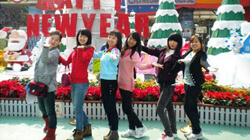 Christmas Eve is approaching, It is better to go to CHIMELONG PARADISE ahead of this holiday. So we decided to start our vacation on Friday. A reserved bus arrived on time; everybody was so happy and excited. (And then our vacation started. )With songs, music and happiness, we arrived there soon.
We had early lunch at about 11:00 in order not to influence the whole touring. About 20 mins later, we arrived at the entrance of Chimelong Paradise. Everybody was busy with taking photos when seeing Father Christmas and mascot tiger.
Girls love taking photo, there is no doubt. As you see, they are making pose now. Boys also making "008" pose together to show handsome and cute.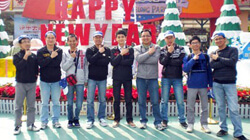 We started our games with Ten Inversion Roller Coaster——the most inversion coaster in the world to release the numb nerve due to busy work after entering Chimelong Paradise. When finished some colleagues were so excited, others were afraid of it. However, it was just a beginning.
Ten Inversion Roller Coaster is still not fast enough? Why not trying Motorbike Launch Coaster?Lying on the Motorbike, the whole body was fixed on it, then the bike rushed out in unbelievable speed to the top and dashed to down with crying and screaming all around. Right now I understood why it was named SCREAMING ZONE.
In SCREAMING ZONE, other games such as Windshear are not so thrilled compared to Ten Inversion Roller Coaster and Motorbike Launch Coaster. It was a good choice to play these games between shrilled games.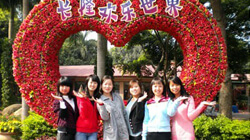 After playing several exciting games, some girls were a little scared, so they went to HAPPY KINGDOM and started to play mild games, such as Double-deck Carousel, Bumper car and so on.
Some other colleagues still wanna play much more exciting games. Giant Frisbee and Dive Coaster in RAINBOW BAY were our first choices. After first round of exciting games, only one quarter joined second round of exciting games. It seems that it was time for spectator programs.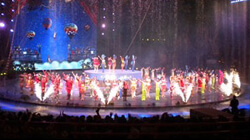 Next, it was show time. Stunt Show 《Count Down》, 108 sets of stunt actions, 360 degree actual experiences, a grand gathering of stunts, a fighting peak of evil and justice begins here and ends up here. watching shows and 4D movie. 4D Theatre 《Happy Feet》,let's play a tap dance together. Afternoon games ends up with Magic show in Happy Theater.
After almost 5 hours playing games, all of us were very hungry and looking forward to have a good dinner in a village restaurant. When dinner began, there is no gentleman or fair lady in the team, all the food were wiped out one by one so soon. It was amazing! After that, we came back to Chimelong and waiting for Chimelong Circus.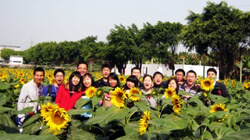 At night, we came to Chimelong International Circus to watch Circus. The Circus only existed in our memory due to long time no see. Beautiful horses, cute bears, smart monkeys and tigers, all of them were showed one by one. No host, no announcement, no language, no translation, but just amazing performance and screaming and warm applause. This circus was really amazing. Everyone was enchanted by the splendid scenery with plenty fantastic memory in mind.
After the Circus, we went back to hotel.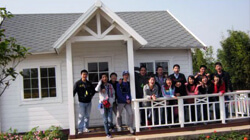 At nine of 24th we started our journey to the second destination——SUNFLOWER GARDEN. To be honest, it is not a good time to watch sunflower in winter season. So we do not expect much. However, when we arrived there, beautiful scenery surprised us.
The reputation of colorful flower garden is well supported by its fact. Purple Lavender, White Chinese Pennisetum, deep Purple Gomphrena globosa, deep red Ixora chinensis and so on are planted separately in one garden. We were impressed by these beautiful sceneries.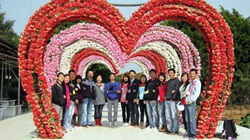 Besides beautiful scenery, there are also some games suitable for both children and adults to play, such as playing swing, playing slide and so on.After half an hour visiting, we found a good place for taking photos——sunflower farmland.
That small house in the flower garden impressed us a lot and also the heart-shape flowers. It is the best place to take wedding photos. Single boys and girls started to think about re-visiting by themselves.
Time always flies fast when we are enjoying vacations. After a delicious lunch, we came back to Shenzhen. In conclusion, the tour to CHIMELONG PARADISE and SUNFLOWER GARDEN, a little tired but very happy.
Jason Yang
Director,Marketing & Sales
Tel.: +86 755 2958 8988 Ext. 837 Fax: +86 755 2958 8616
Mobile Phone: +86 185 7520 6951
E-mail: bbe@bbeled.com