BBE Foreign Trade Dep. Travelled in Shenzhen OCT EAST
2nd July, we, BBE Foreign Trade Dep., came to Shenzhen OCT EAST located in DaMeiSha beach. According to introduction, It is a combination of two large theme parks, resort hotels, three small scenic towns, golf courses and more covering an area of 9 square kilometers.
First stop, we choose Knight Valley. By sightseeing lift, here came to Knight Valley Fall. It is so impressive that we all make photos.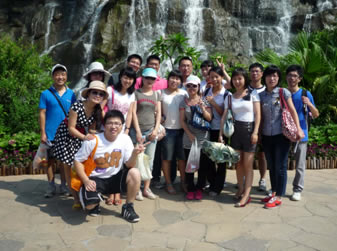 BBE Foreign Trade Dep. Front of Knight Valley Fall.
Walking through paved pathway, Seafield Village is in front of us. Featuring timber buildings, bronze sculptures, fountains and even a small lake with a sandy beach.. Everything looks pretty exotic.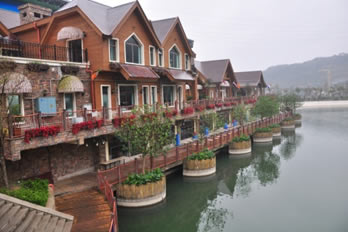 View of Seafield Village
To the top of Knight Valley, we get into the cable car. It is a wonderful place to see the mountains.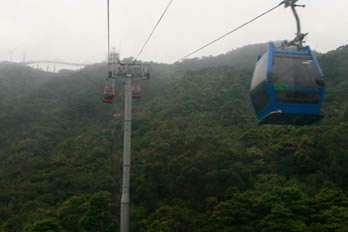 Cable car up the mountains
At the top of the mountain is long walk bridge providing a view of valley, and you can enjoy the beautiful view from the deck.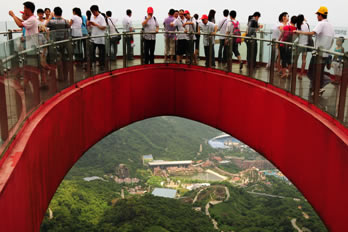 Viewing deck with red base
But the most exciting is too two big rotary arms which have seats at either end. You are strapped in the seat and arms does 360°spins. SCREAM! ONLY SCREAM, NOTHING ELSE!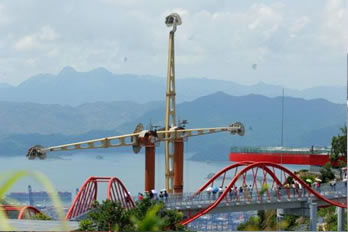 runner in top of the mountain
Then we got off the mountain by the funicular (a steep train), and you can see the DiaMeiShan beach from the distance.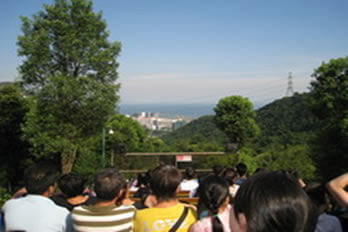 View from the funicular
After a big lunch, we sit down, watching the roaring float show. It is about a 'good guys vs bad guys', including an exploding ship, stunts, jet skis doing tricks and an exploding mountain that bellows out a flood. Its also fun to watch the people in the lower seats getting wet.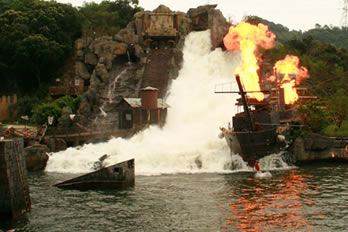 The roaring float show
The other day, we stepped into Tea Stream Valley as tourists. But specially, we got there in the trolley car which turns out to be a fun ride with a view.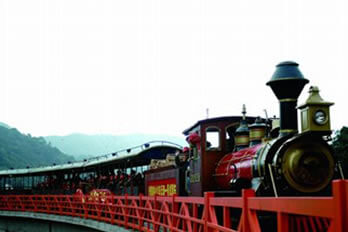 Tea Stream Valley consists of western and eastern cultures, has been constructed based on many fundamental elements such as tea, Buddhism, follower and bamboo etc.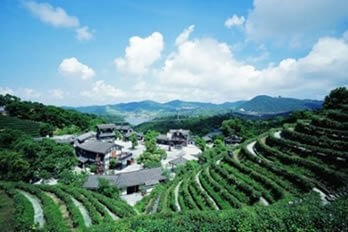 Tea terraces and traditional houses
The two days' travelling in Shenzhen OCT EAST is great. Would we go there again? Probably not, but it is memorable.
Any question, pls feel free to contact us. Thanks.
BBE TEAM
Tel.: +86 755 2958 8988 Ext. 837 Fax: +86 755 2958 8616
Mobile: +86 185 7520 6951
E-mail: bbe@bbeled.com